Hello everybody,
I was bought this book by my future mother in law as she read my blog post about my favourite new smoothie recipe… How cute is that! Here is a link if you haven't read it yet. You should definitely check it out: https://laurakathblog.wordpress.com/2017/01/02/mango-strawberry-pomegranate-and-pineapple-smoothie-lush/
She purchased it from Lakeland – one of my favourite shops for baking equipment.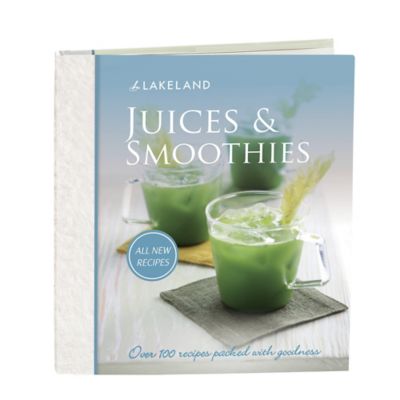 Get this item Half Price until the end of January. It was £5.99 and is now £2.99 until the end of the month! (Save £3.00).
This has so many simple but unusual recipes that I cannot wait to try out. With over 100 different combinations, my aim is to try all of them by the end of the year. Any book that makes it easier for me to get my 5-a-day has my approval! Great for kiddies too.
Lakeland say… 'So simple to make and such a delicious way to increase our recommended daily intake of fresh fruit and vegetables, the fruit smoothie and juicing lifestyle is here to stay. This mouth-watering collection of recipes, with gorgeous photography to inspire, contains over a hundred flavoursome ways to bring an extra-healthy vitamin boost to all the family come breakfast, lunch or on the run, with a whole chapter of tempting treats aimed at encouraging children to get their 5-a-day the easy way'.
Go and grab this book – Quick!
Happy smoothie making! Have a smiley day 🙂
K. x