Hello everybody,
Coffee, tea and other hot drinks are perfect for this time of year. I'm a bit of an addict anyway so about 6 months ago I purchased my very own coffee machine! It was the Nescafe Dolce Gusto Melody 3 and I purchased it for £44.99 from Currys/PCWorld – Although I believe the price has dropped again a bit since Christmas!  It is still available on the official Nescafé website but for a whopping £109.99!!
https://www.dolce-gusto.co.uk/catalog/product/view/id/417/s/melody-3-krups-ivory/category/58/
This machine takes 30 seconds to turn on and then provides instant boiling water from the refillable tank on the back. I can make about 3 drinks with mine before I need to top it up again. There are two types of the Melody 3; an automatic and a manual option. I chose the manual design as you can customise your drinks much more effectively. The manual lever on the top allows me to decide how large I want my cup of drink to be; whereas with the automatic ones, you have no control over this. I find that the drinks come out tasting and smelling as though they are straight from a real coffee shop. If you like your coffee with a bit of froth and cream on the top then this machine is for you!
The dolce gusto pods are widely available in the majority of supermarkets for about £3.79 for either 8 or 16 drinks, depending on the nature of the drink. (Espressos only require one pod so you get 16 in a box, where as a cappuccino requires 2 pods for coffee and milk, so you only get 8 drinks out of the box).
I have never really been an espresso girl, or any black coffee drink for that matter, so unfortunately I cannot comment on these; however, there are still so many options that I love!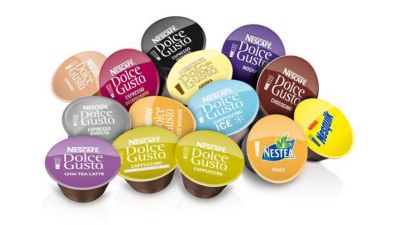 One of my absolute favourites is Nescafé's signature hot chocolate, Chococino. I also love the tea latte, latte macchiato, cappuccino, Marrakech tea and the standard café au lait. There are extra variations available online, including sugar free drinks and cold drinks such as Nesquick and iced tea. The online store is brilliant and I use it all the time as free delivery is offered when you purchase 4 boxes of pods which is less than £16, and lasts me ages!
I totally recommend this coffee machine, especially as it is so affordable and yet the quality of the drink is not compromised at all! The sleek, stylish design of the unit looks great on a work surface and you'll be proud to display it in your kitchen.
Enjoy experimenting! Have a lovely day 🙂
K. x