Hello everybody,
I have compiled a list of my favourite beauty must-have essentials for the beginning of the new year. From facial toner to foot lotion, I will show you the products that I have been getting the most use out of recently and explain the reasons why they have earned their place in my everyday beauty drawer! Here we go;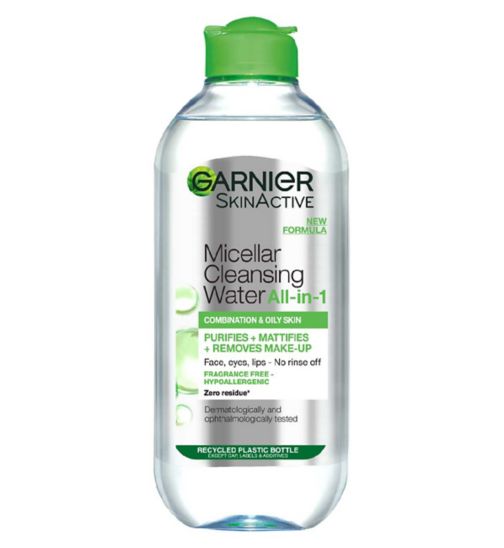 Garnier Skin Active Micellar Cleansing Water – I have recently switched to this brand from the 'Simple' Micellar water. I found that both were equally well suited to my skin, however the Garnier version works out better value for money and comes in a much bigger bottle and therefore lasts much longer! Garnier have made Micellar waters for all different skin types; though the green bottle is best suited to my combination/sensitive skin. It says it can be used to remove make-up, however I just use this as a quick cleanser for the odd times throughout the day where my skin feels a bit oily and needs a quick pick me up.
Simple Soothing Facial Toner – I have to admit that I probably don't use toner as much as I should.. Mainly because I'm not sure how much of an effect it actually has. The product claims to provide nutrients and to soften the skin, which it probably does, although I feel it basically does the same job as the Micellar water. Still, it is refreshing, hydrating and perfect for sensitive skin!
3. Clean & Clear Advantage Spot Control Treatment Gel – This is a strange product for me because although it is definitely harsher on my skin than products I would usually opt for, I have to say it REALLY works! I use this when I get the odd horrible red bump on my chin or forehead (warning me of the terror to come!). I slather it on the impending doom right before I head to bed and in the morning the redness will have almost disappeared completely. I can honestly say that this is a lifesaver, but if used too much it can dry out your skin, so make sure to exfoliate gently and moisturise regularly if using this in an everyday routine.
4. Simple Spotless Skin Anti-Blemish Moisturiser – Speaking of moisturisers, I bought this on a whim about a month ago and straight away it has become my everyday moisturiser. A lot of moisturisers leave my skin feeling oily or sticky and I HATE that feeling! There's nothing worse than cleansing and feeling all fresh to then put oily stuff all over your face which just sits there for ages without sinking in (Rant over!). Simple have completely blown me away with this product though as it sinks in within about 5 minutes leaving my skin as soft as a baby's bottom. I also love the fact that whilst hydrating my skin it also fights off impurities and works to reduce blemishes.. Double yes!! I love this product so much that I also bought the exfoliator from the Spotless Skin range too!
5. Baylis and Harding Midnight Fig and Pomegranate Hand and Body Lotion – This I believe is only available as part of a set with a lovely body wash (which I also use) and it is my daily body moisturiser. I use this on my arms and legs as I often suffer from dry and sensitive skin – also it smells heavenly, perfect for this time of year.
6. Soap and Glory The Righteous Butter – I swear by this! Anyone suffering from dry skin – This is the answer! This body butter is perfect for everyday use on those areas that are perhaps a bit drier or where normal moisturiser just won't cut it. I like to use this each night before bed on my elbows and my knees, where I just need a little more moisturisation.. (Not even a word but I totally just made it up and I'm gonna roll with it). Perfect for right after a lovely warm shower too. Smells divine!
7. Baylis and Harding Sweet Mandarin and Grapefruit Foot Lotion – This next one is also only available as part of a set, as far as I know; although if it means that every time I buy it I get a new pair of fluffy socks then I'm certainly not going to complain! I am a great lover of foot spas and so I love to pop this all over my feet after a soak or a bath and then bung on a big pair of fluffy socks and slippers to let all the loveliness soak in. Admittedly not part of my everyday routine, but perfect as a pamper treat!
8. Sanctuary Spa Hand Cream – Essential in this horrible, cold weather! I often switch between this and Dove's Purely Pampering hand cream, but this is the one I like to carry around with me in my handbag. I have only recently started to use hand creams more regularly, but boy do I notice a difference. This one is absorbed really quickly into the skin so it doesn't leave you wandering around not able to touch anything. Pampering and practical!
9. Nivea Lip Butter Caramel Cream – All I can say is that this smells INCREDIBLE! When I sat down to write this I genuinely thought it was Salted Caramel scented, but I found out that its just regular caramel. Nonetheless.. wow! Lip balm or lip butter is another winter essential that I always carry with me everywhere. This is one of my favourites at the moment, purely for the scent.
Well, there we go everybody! My top daily beauty essentials for January 2017. I could have rounded it up to an even 10, but I have a few exciting products that I have been secretly trying out ready to review for you and didn't want to ruin the surprise. I will also be posting a separate blog about my favourite luxury or pamper type products which although I love and use regularly, do not fall into my 'everyday essentials' category (things like face-masks, exfoliators, nose pore strips, etc.) Be sure to look out for that!
I hope you enjoyed reading my blog and have a beautiful day 🙂
K. x